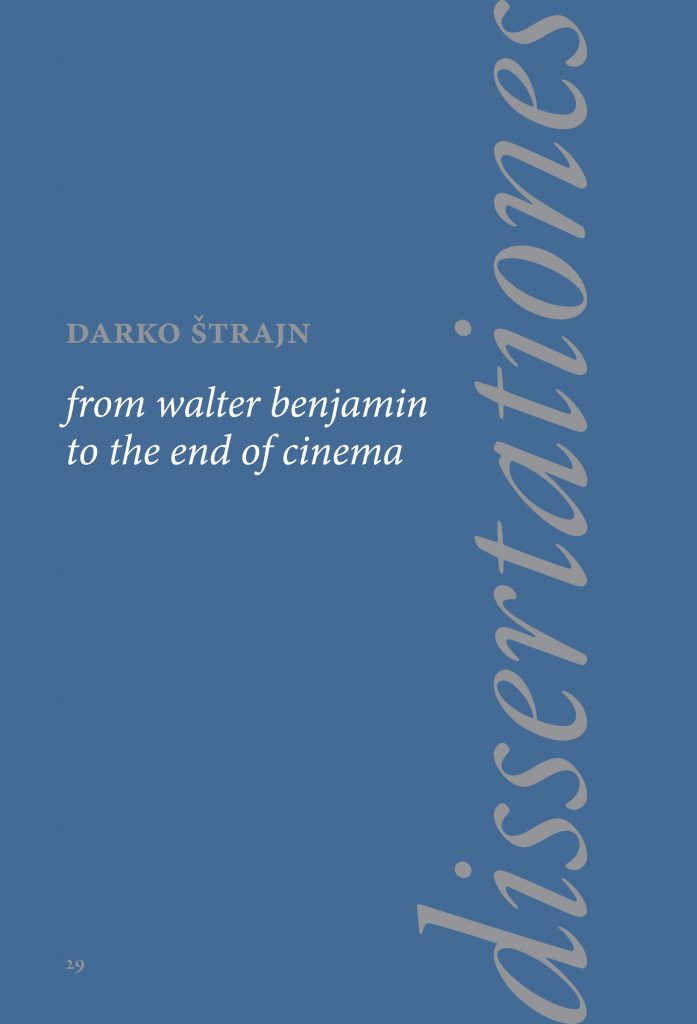 From Walter Benjamin to the End of Cinema: Identities, Illusion and Signification Within Mass Culture, Politics and Aestetics.
---
Author(s): Darko Štrajn
---
Type of work: scientific monograph
---
Number of pages: 240 strani
---
ISBN-13 (PDF): 978-961-270-252-6
---
ISBN-13 (HTML): 978-961-270-253-3
---
---
Način citiranja:
---
Štrajn, D. (2017). From Walter Benjamin to the End of Cinema: Identities, Illusion and Signification Within Mass Culture, Politics and Aestetics, Ljubljana: Pedagoški inštitut, Digitalna knjižnica, Dissertationes 29, https://www.pei.si/ISBN/978-961-270-252-6.pdf (datum dostopa do spletne strani), stran v delu.
---
Umetnost zavzema stališča v simbolnem univerzumu tako, da uveljavlja singularnost, ki zato, ker je ta vedno neki artefakt, hkrati transcendira vsako posebnost singularnosti. Agambenovo naziranje umetnosti, ki »se prepoznava v 'zlati krogli' volje do moči«, se lahko jasno pridruži Benjaminovemu namigu, da instanca l'art pour l'arta doseže popolno nasprotje od svojega namena, ki je vpisan vanjo. Vendar, kot še pripomni Benjamin, teorija »(…) mora biti pravična do teh razmerij, saj nas vodijo k pomembnemu vpogledu: prvič v svetovni zgodovini, mehanična reprodukcija emancipira umetnino od njene parazitske odvisnosti od rituala«. Načelo montaže v pluralnih ureditvah današnjega sveta vzajemne igre konstruiranih realnosti ne deluje samo skozi umetniške prakse, ampak tudi skozi celoten kompleks različnih komunikacij, informacij in prezentacij.
V evropski kinematografiji najdemo v različnih obdobjih skupne značilnosti med raznolikimi pristopi k identiteti. Pojem identitete se nanaša na številna svoja izrekanja, ki se dotikajo filozofske subjektivnosti, psihološkega subjekta, etnične entitete, političnega agensa itn. Vsi ti različni vidiki identitete, ki so seveda v večini primerov (vendar ni nujno vedno tako), vpisani v konstrukcije protagonistov, se kažejo v filmih iz različnih obdobij evropske kinematografije.
Danes moramo pogosto biti natančni, ko govorimo o spominu: ali mislimo na spomin, ki ga shranjujemo v naših možganih ali mislimo na digitalne podatke, ki so shranjeni na trdem disku nekje v kibernetskem prostoru? V Eisensteinovi filmski praksi, lahko opazimo učinek teh hipotez, ko v značilni in velikokrat slavljeni montaži prenaša mišljenje v in skozi podobe v njegovih filmih. Rancière odkrije »neposrednost«, ko poskuša poudariti, kako film organizira v okviru svojih zmogljivosti »distribucijo čutnega«. Koliko je pojem »film« – čigar »materialna bit« kot celulojdnega traku izginja – v njegovi vse bolj metaforični navzočnosti odločilen za razumevanje umetnosti, zdaj zaznamovane z multiplimi označevalci »virtualne realnosti«?