Step by Step Centre for Quality in Education (Slovene abbreviation: "CKVI KZK") aims at high-quality education and initiation of changes in the educational system through the professional development of ECEC practitioners and primary school teachers and providing action and participatory research of the practices related to the process of upbringing and education.  Its activities are based on the principles of equal opportunities, democratic civil society, children's and parents' rights, contemporary knowledge of the child's development and learning, and how different factors influence those two parameters. Within its initiatives, special attention is paid to the most vulnerable groups of children and their parents. Centre manages, coordinates, and provides substantive guidance to the Step by Step Network for Changing Quality, which includes approximately 10% of Slovenian kindergartens.
The internal web page of the Step by Step Centre for Quality in Education is available at www.korakzakorakom.si
The Step by Step Centre for Quality in Education is one of the founding members and a full member of the International Step by Step Association.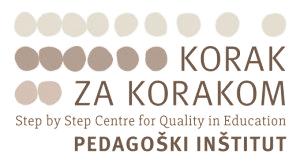 ---
Who we are
---
---