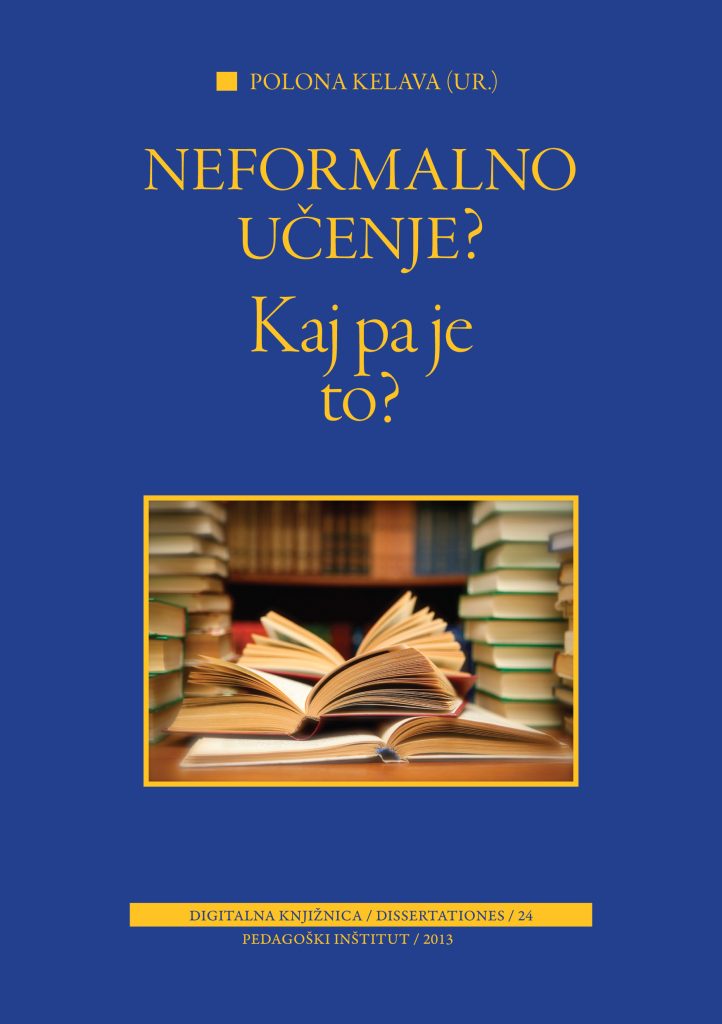 Neformalno učenje? Kaj pa je to?.
---
Editor(s): Polona Kelava
---
Type of work: scientific monograph
---
Publication year: 2013
---
Number of pages: 302 strani
---
ISBN-13 (PDF): 978-961-270-176-5
---
ISBN-13 (HTML): 978-961-270-175-8
---
---
Način citiranja:
---
Kelava, P., (ur.) (2013). Neformalno učenje? Kaj pa je to?, Ljubljana: Pedagoški inštitut, Digitalna knjižnica, Dissertationes 24, https://www.pei.si/ISBN/978-961-270-176-5.pdf (datum dostopa do spletne strani), stran v delu.
---
Neformalno učenje? Neformalno izobraževanje? Neformalno znanje! Tema te znanstvene monografije je široka. Avtorji so antropologi, sociologi, filozofi, pedagogi, andragogi, zgodovinarji pedagogike in šolstva, zato vsebina posega na med seboj na prvi pogled zelo oddaljena področja, ravno to pa gradi nova spoznanja o neformalnem učenju, izobraževanju in nenazadnje znanju ter nudi podlago za nadaljnje razmišljanje o teh temah.
Od zgodovinskega pregleda o pomenu neformalno pridobljenega znanja od antike do 16. stoletja v uvodnem članku preko vprašanj emancipatoričnosti neformalnega izobraževanja in povezanosti neformalnega učenja z dialogom se pomudimo ob informalnem pridobivanju znanj v različnih diskurzih ter ob vlogi formalnega in neformalnega znanja v »postopkih« antiintelektualizma. Po učiteljih v neformalnem izobraževanju pa se zadnji trije prispevki v monografiji ukvarjajo s priznavanjem neformalno pridobljenega znanja v poklicnem in strokovnem izobraževanju in izobraževanju odraslih s treh različnih perspektiv.
Monografija je nastala kot eden izmed produktov temeljnega projekta Antropološki vidiki neformalnega pridobivanja znanj (2011–2014).