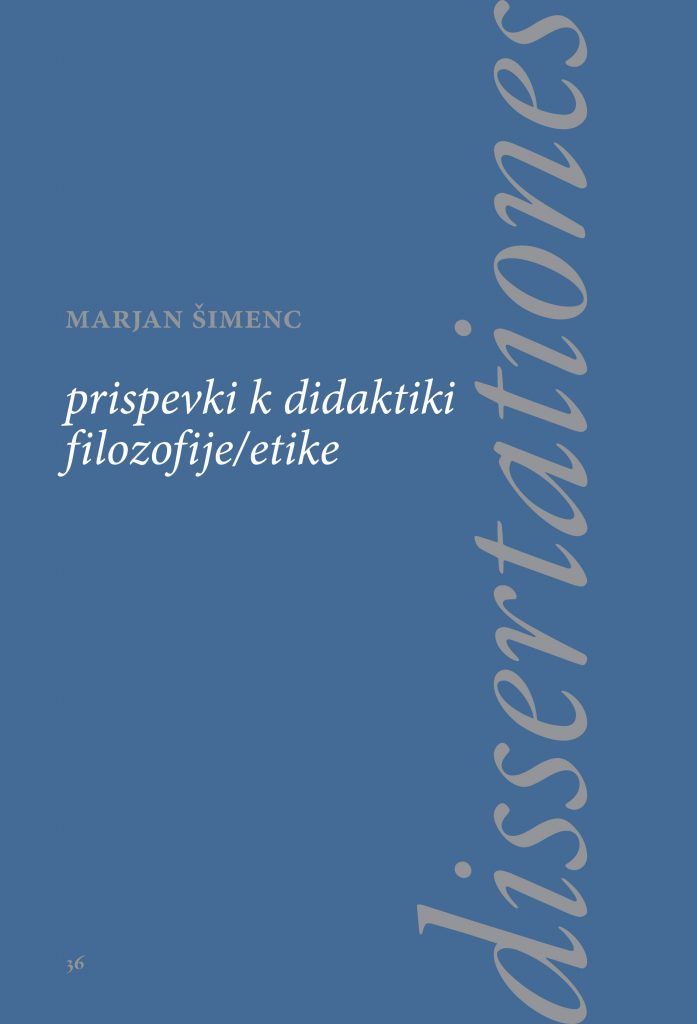 Prispevki k didaktiki filozofije/etike.
---
Author(s): Marjan Šimenc
---
Type of work: scientific monograph
---
Number of pages: 156 strani
---
ISBN-13 (PDF): 978-961-270-296-0
---
ISBN-13 (HTML): 978-961-270-297-7
---
---
Način citiranja:
---
Šimenc, M. (2018). Prispevki k didaktiki filozofije/etike, Ljubljana: Pedagoški inštitut, Digitalna knjižnica, Dissertationes 36, https://www.pei.si/ISBN/978-961-270-296-0.pdf (datum dostopa do spletne strani), stran v delu.
---
Monografija prinaša prispevke k didaktiki filozofije/etike. Prvi del se posveča vprašanjem, povezanim z didaktiko filozofije, drugi pa vprašanjem, povezanim s poučevanjem etike. V prvem delu avtor razvije niz podvojitev, ki so značilne za didaktika filozofije. Prva zadeva razliko med sistematizirajočo in avtorsko didaktiko filozofije. Druga izhaja iz mesta didaktike v šolskem sistemu, zajeti jo je mogoče z razlikovanjem med šolsko in filozofsko didaktiko filozofije. Iz perspektive pedagogike interupcije sledi še dvojnost didaktika spraševanja in didaktika interrupcije. V nadaljevanju besedilo reflektira niz specifičnih vsebinskih vprašanj na področju didaktike filozofije. Pri branju filozofskih besedil tako razvija razumevanje branja kot dialogizacija prvotnega besedila in pisanje novega besedila. V drugem delu se besedilo ukvarja z nekaterimi načelnimi vprašanji moralne vzgoje. V ospredju je problematika prenašanja vrednot, kritičnega mišljenja in personifikacije morale. Naloga moralne vzgoje je razjasnjevanje vrednot, kar pomeni ovedenje in prisvojitev vrednot. Pravica subjekta do svobodne odločitve o vrednotah predpostavlja, da je bil temeljni vrednotni okvir že ponotranjenjen. Cilj demokratične pluralne družbe je reprodukcija avtonomije posameznika, vendar same avtonomije ni mogoče reproducirati, tako da reprodukcija avtonomije pomeni reprodukcijo pogojev avtonomije.