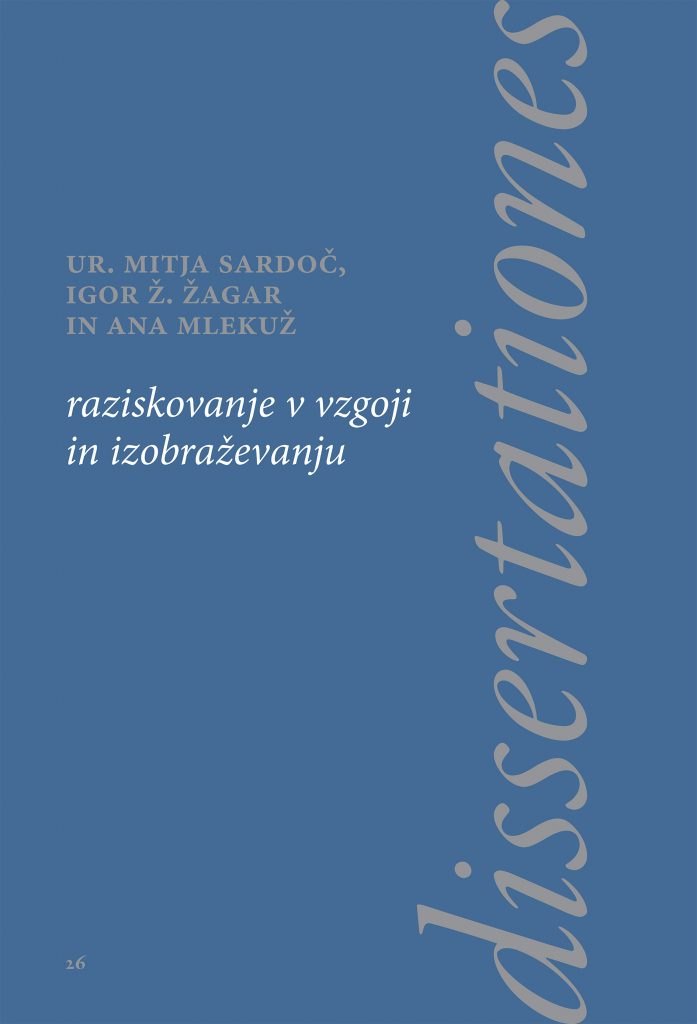 Raziskovanje v vzgoji in izobraževanju.
---
Editor(s): Mitja Sardoč, Igor Ž. Žagar, Ana Mlekuž
---
Type of work: scientific monograph
---
Publication year: 2018
---
Number of pages: 306 strani
---
ISBN-13 (PDF): 978-961-270-279-3
---
ISBN-13 (HTML): 978-961-270-280-9
---
---
Način citiranja:
---
Sardoč, M., Žagar, I. Ž., in Mlekuž, A., ur. (2018). Raziskovanje v vzgoji in izobraževanju, Ljubljana: Pedagoški inštitut, Digitalna knjižnica, Dissertationes 26, https://www.pei.si/ISBN/978-961-270-279-3.pdf (datum dostopa do spletne strani), stran v delu.
---
Raziskovanje v vzgoji in izobraževanju (kot tudi raziskovanje nasploh) je v zadnjih nekaj desetletjih postalo osrednji katalizator sprememb in vir najpomembnejših inovacij. Kot redni spremljevalec šolskih reform ter ostalih sistemskih sprememb na vseh ravneh vzgoje in izobraževanja ostaja raziskovanje (tako v Sloveniji kakor tudi ostalih razvitih državah) ključen dejavnik procesa zagotavljanja kakovosti. Vse večja vpetost raziskovanja t. i. "šolskega polja" v mednarodni prostor hkrati potrjuje teoretično upravičenost in praktično nujnost sistematičnega in kontinuiranega raziskovanja, ki presega okvire posameznih znanstvenih disciplin. Sočasno z njegovo osrednjo "sistemsko" vlogo tako v procesu vzgoje in izobraževanja kot tudi v družbi nasploh je posebna pozornost snovalcev politik ter širše strokovne javnosti in samih raziskovalcev namenjena tudi problematiki etične ozaveščenosti. Povečana senzibilnost za družbeno odgovornost znanosti ter s tem povezana prizadevanja so v ospredje postavila etično razsežnost raziskovalnega dela. Horizont mišljenja (in razumevanja) problematike raziskovanja v vzgoji in izobraževanju tako ni več ujet v diskurz politične korektnosti, ki nekatere izmed temeljnih problemov, izzivov in dilem – tudi zaradi svoje enoznačne retorike – v veliki meri zaobide.